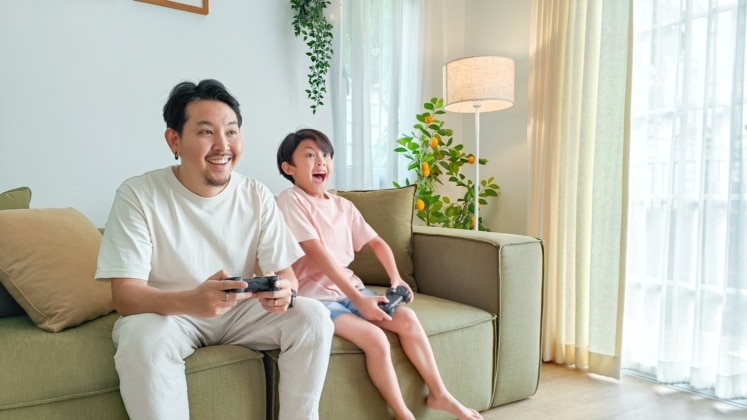 Do you love singing your heart out to your favorite tunes? Are you always on the lookout for a fun karaoke game to play with friends or family? Look no further! We've compiled a list of the 8 best karaoke games to play, featuring popular titles like Rock Band 4 and Just Dance 2020, as well as some hidden gems like UltraStar Deluxe. Whether you're a seasoned pro or a beginner looking for some musical fun, these games are sure to hit all the right notes. So grab your microphone and get ready to belt it out with our top picks for the best karaoke games of 2023!
Rock Band 4
Rock Band 4 is the ultimate karaoke game for those who love to rock out with friends. This game lets you form your own band and play all kinds of instruments, including guitar, bass, drums, and vocals. With over 60 songs to choose from in the base game alone (with more available as DLC), there's something for everyone on this tracklist.

One of the best things about Rock Band 4 is its focus on multiplayer gameplay. You can join forces with up to four other players locally or online and work together to achieve musical greatness. It's a great way to bond with friends or family while having fun at the same time.

Another standout feature of Rock Band 4 is its compatibility with previous generation instruments from older games like Guitar Hero and earlier versions of Rock Band. This means that if you already have an instrument collection gathering dust in your closet, you can bring them back out for a new lease on life.

Rock Band 4 offers an excellent combination of music selection, gameplay mechanics, and social features that make it one of the most enjoyable karaoke games out there today.
Just Dance 2020
Just Dance 2020 is a popular karaoke game that has been around for years. It's a perfect game for anyone who loves to dance and move their body while singing along with their favorite songs. With over 40 new tracks, players can expect to have endless hours of fun.

One of the best things about Just Dance 2020 is its compatibility with Nintendo Switch. Players can use the Joy-Con controllers and dance to their heart's content. The game also features various modes, such as Kids Mode and Sweat Mode, which caters to different age groups.

Moreover, Just Dance Unlimited subscription allows players access to over 500 songs from previous versions of the game. This feature adds more variety and entertainment value for players who love dancing games.

The gameplay mechanics are simple but challenging enough for players of all skill levels. The on-screen choreography provides an excellent guide for players to follow along with as they dance and sing their hearts out.

Just Dance 2020 remains one of the most exciting karaoke games in recent memory. Its vibrant graphics, extensive song selection, and accessible gameplay make it an excellent choice for both casual gamers and seasoned pros alike!
We Sing
We Sing is a popular karaoke game that lets players sing along to their favorite songs. It features a wide variety of music genres, including pop, rock, and country. The game can be played on various gaming consoles like Nintendo Switch, Wii, and PlayStation.

One unique feature of We Sing is its multiplayer mode that allows up to four people to sing together at once. This makes it an excellent option for parties or gatherings with friends and family.

Another interesting aspect of this game is the scoring system. Players earn points based on how accurately they hit the notes and stay in tune with the song. This encourages players to improve their singing skills while having fun.

We Sing also has a customizable interface that allows players to adjust the background visuals and stage effects according to their preferences. Additionally, it offers different gameplay modes like 'Sing Along' and 'Party Mode,' which add more excitement during gameplay.

We Sing provides an enjoyable karaoke experience for all skill levels while offering diverse music options and entertaining features suitable for any occasion.
Super Mario Party
Super Mario Party is one of the most popular party games out there, and it's a great option for karaoke lovers too. The game features a variety of minigames that are perfect for singing along to your favorite tunes. Whether you're belting out classic hits or modern pop songs, Super Mario Party has something for everyone.

The game offers several different modes to choose from, including the traditional board game mode and a new rhythm-based mode called Sound Stage. In Sound Stage, players must perform specific actions in time with the music while competing against each other. It's a fun and engaging way to get everyone involved in some karaoke action.

One of the best things about Super Mario Party is its accessibility – anyone can pick up and play this game, regardless of their gaming experience or musical ability. The colorful graphics and upbeat soundtrack make it an enjoyable experience all around.

If you're looking for a karaoke game that offers more than just singing alone into a microphone, give Super Mario Party a try. You won't be disappointed!
Glee Karaoke Revolution
Glee Karaoke Revolution is a game that allows players to sing along with their favorite songs from the hit TV show, Glee. This game features all the top songs from the series and lets you perform them in front of an audience.

The game has multiple modes, including Story Mode where you can follow a character's journey through different episodes of the show, Quickplay Mode for immediate singing fun, and Party Mode which is perfect for group play.

One great feature of Glee Karaoke Revolution is its duet mode which allows two players to sing together as they compete against each other or work together to achieve high scores. The gameplay mechanics are easy enough for anyone to pick up quickly but challenging enough to keep you engaged for hours on end.

If you're a fan of karaoke or Glee (or both!), then this game is definitely worth checking out. It's available on multiple platforms including Xbox 360 and Wii so grab your mic and start belting out those tunes!
The Voice: I Want You
"The Voice: I Want You" is a karaoke game that allows players to sing along with popular songs while competing against each other. The game features the same mechanics as the TV show, where four coaches judge the performances and turn their chairs around if they want to work with the singer.

One of the unique features of this game is its ability to use real-time pitch correction technology, making it easier for players to hit all the right notes. This feature can be turned off for more advanced singers who want a challenge.

Another exciting aspect of "The Voice: I Want You" is its extensive song library, which includes hits from various genres such as pop, rock, country, and R&B. Additionally, there are several modes available in this game including quick play mode and career mode where you can progress through different levels by winning competitions.

Overall "The Voice: I Want You" provides an immersive experience for both casual and serious gamers alike who love singing or watching others do so on television!
American Idol Encore
American Idol Encore is a karaoke game that is based on the popular TV show American Idol. The game features songs and performances from past contestants of the show, as well as some of the judges' favorite songs.

One of the unique features of this game is its Career Mode, where you get to create your own character and participate in various rounds of competition. You'll have to impress both the judges and the audience with your singing skills if you want to make it all the way to becoming an American Idol champion.

The gameplay itself is quite engaging, with detailed graphics and customizable options for your performances. You can choose everything from your outfit to your stage setup, adding a personal touch to each performance.

American Idol Encore offers a great karaoke experience for fans of both singing and reality TV competitions. With its extensive song list and exciting gameplay modes, it's definitely worth checking out for anyone looking for a fun night in with friends or family. Plus, who knows? Maybe you'll be discovered as America's next big singing sensation!
Def Jam Rapstar
Def Jam Rapstar is a karaoke game that focuses specifically on rap music. Players can choose from a wide variety of classic and modern hip-hop tracks to perform, with lyrics displayed on the screen to help them keep up.

One unique feature of Def Jam Rapstar is the ability for players to record their performances using the game's built-in microphone or an external one. These recordings can then be shared online with friends and other players around the world.

The game also includes various multiplayer modes, allowing multiple people to compete against each other in rap battles or collaborate on group performances. The gameplay mechanics are easy to pick up but difficult to master, making it an excellent choice for both casual and hardcore gamers.

Def Jam Rapstar is a must-play for any hip-hop fan looking for a fun way to hone their rapping skills while enjoying some great music at the same time.
Also, read: Top free hidden object mysterious games